Social Welfare Information
The main social welfare payments for unemployed people are either Jobseeker's Benefit (JB) or Jobseeker's Allowance (JA). This section aims to make you familiar with rules you need to know in order to apply for and continue to receive these payments.
For more information on Jobseeker's payments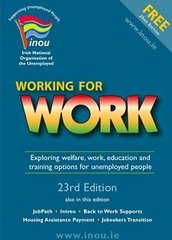 Click the book and check the index pages from page 216 to 217 in the book

or at page number at top of page when you click, type 222 and press enter.
To view 'Frequently asked questions' on jobseekers payments, CLICK HERE