Voluntary Work
Voluntary work is a good way to keep active, keep in a routine, learn new skills and get involved in your local community. You may do some unpaid work as a volunteer and keep your social welfare payment however you will need to get permission from the Deciding Officer in your local Social Welfare/ Intreo Office first.
There are a number of different organisations that can offer information on voluntary work these include:
This section also offers information on Voluntary work and Jobseeker payments, for further information CLICK HERE or on the book and go to page 77.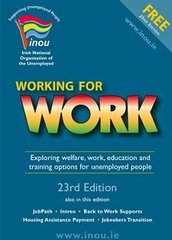 Useful Publications
Volunteering Ireland produce a series of factsheets about Volunteering which include: Barriers to Volunteering, Training Volunteers, Introduction to Volunteer Management, Insurance for Volunteers, Volunteering and Social Welfare payments, all of which are available to download from their website, just CLICK HERE.